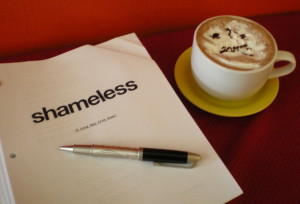 Each consultation includes extensive written feedback, a one-hour story conference (in person, or a teleconference or skype session – your choice) and covers every critical aspect of your script including:
Story Structure

Character Arc

External & Internal Character Motivations and Conflict

External & Internal Story Tracks and Progression

Themes vs. Message

Physical Action vs. Viseral Action                                     

Dialogue

A Specific Game Plan for Your Revision

Market Ready Analysis
You can pay onsite with PayPal or simply mail a check to: Erica Byrne, P. O. Box  5193, Goodyear, AZ 85338-0603.
5 to 6 page Beat Sheet: $250.00 USD 
12 to 20 page Story Outline: $350.00 USD 
45 to 60 page One-Hour TV Drama Spec on a Current On-Air Series: $650.00 USD 
48 to 62 page Original TV Drama Pilot Script: $750.00 USD 
58 to 62 page Original TV Drama Pilot Script & Series Bible: $850.00 USD 
105 to 120 page Original Feature Film Script: $1,500.00 USD 
Each additional page: $5.00 per page USD